Artsweek 2023
May 5 to 14
ARTSWEEK 2023 LAUNCH
OPENING CEREMONIES
Friday, May 5 at 6:30 pm
The Electric City Culture Council (EC3) invites you to attend the launch of Artsweek 2023, kicking off 10 days of performance, poetry, and visual arts projects, featuring dozens of events and nearly 100 artists.
Join us at the Commerce Building Courtyard, 2 Bankers Common
(access via the alley next to Watson & Lou, 383 Water Street).
All Events Are Free!
Join us at the epicenter of the First Friday Art Crawl for the official proclamation of Artsweek by Mayor Jeff Leal, remarks from Councillor Alex Bierk, and guest artists Jeremy Pastic, the Unity Singers, Hank Fisher, Justin Million, and Laurin Isiekwena – followed by Jennifer (Opal) Elchuk's participatory performance Woodland & The Wilds Promenade.

The full roster of Artsweek events during First Friday on May 5 include: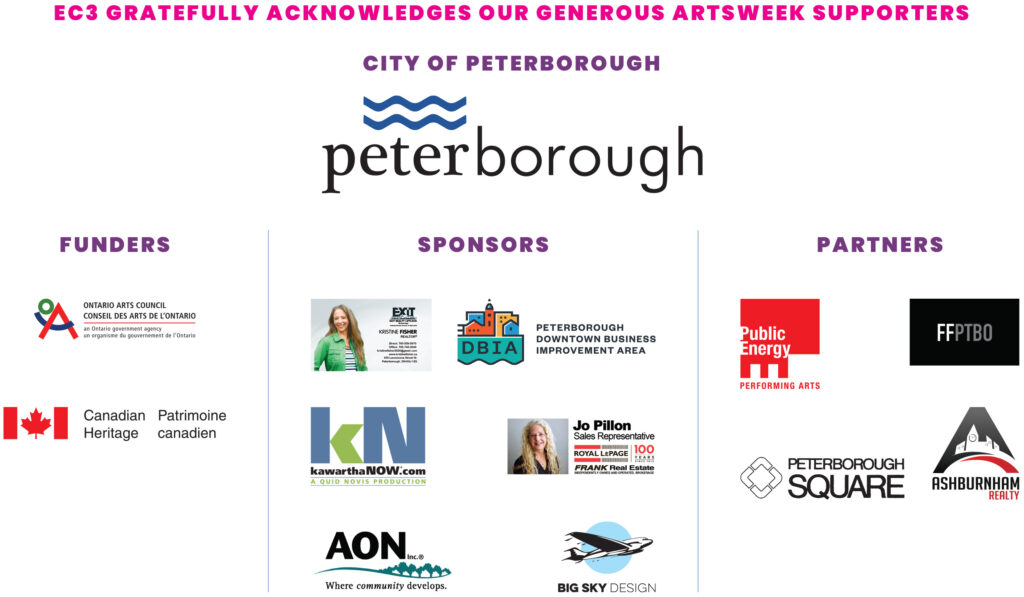 ---
ARTSWEEK 2023 CALENDAR OF EVENTS
Click the program titles below for further information
or see the full page of program descriptions here.
ALL EVENTS ARE FREE
---
---
---
---
---
---
---
---
---
Saturday
MAY 13
Noon Regional
Farmers' Market,
215 Charlotte St
3:00pm
Millennium Park by the Fountain
---
---
---
Artsweek is produced and presented by the Electric City Culture Council (EC3)
EC3 is a not-for-profit arts service organization supporting the development of individual artists and arts organizations in Peterborough and Peterborough County. Our programs provide opportunities for artists to create, produce, and present work, and for audiences to experience and appreciate the arts. We champion the arts, delivering grants, awards, research, strategic leadership and advocacy, professional devolvement, residencies and arts programming.