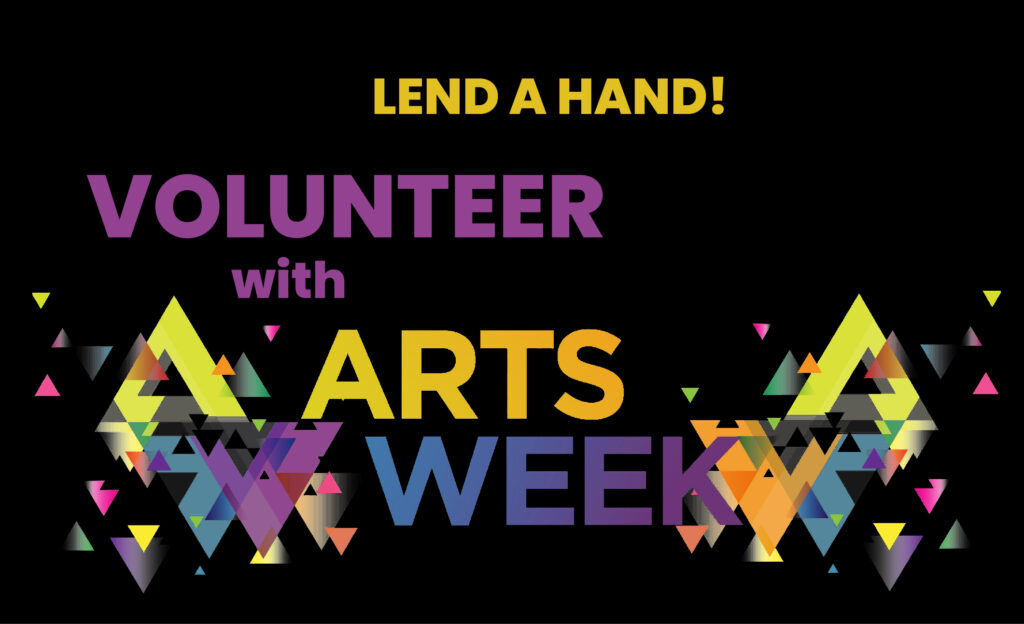 VOLUNTEER FOR ARTSWEEK 2023!
Artsweek is Peterborough's biennial festival of the arts, a 10-day, multi-disciplinary showcase of local creativity. Artsweek brings new work to new audiences in unexpected places, supports original creation by local artists, and celebrates Peterborough as an innovative, creative community with a vibrant arts scene.
It's an extravaganza of music, visual arts, media arts, literary and spoken word arts, puppetry, theatre, performance, projections, and circus arts.
It's 30 events, day and night, and over 100 artists.
We need volunteers to make Artsweek happen! Interested? Please check out the roles below, and then fill out this form.
Get Involved!
How do you want to help Artsweek 2023?
ARTSWEEK AMBASSADOR
The Artsweek Ambassador is on-site during Artsweek events to answer questions from the public, support the site lead in crowd control, collect donations and audience feedback through evaluation forms, and help to ensure Artsweek's accessibility goals are met. Ambassadors should be punctual, reliable, and comfortable interacting with members of the public. As representatives of Artsweek, you need to be friendly, professional, and able to manage the intake of donations responsibly. We would love for Artsweek Ambassadors to take part in the social media coverage of Artsweek by sharing their experiences on their personal social media accounts.
ON-SITE PRODUCTION ASSISTANT
The On-Site Production Assistant will work directly with artists to install, de-install, and prep indoor/outdoor spaces for Artsweek events and performances. The Production Assistants should be able to follow directions and work well with others. Experience working in galleries, theatres, or other art and performance venues is an asset, but is not required. Enthusiasm for making behind-the-scenes magic happen is a must.
SITE LEAD
The Site Lead is a vital member of the Artsweek leadership team. As the point person on-site at Artsweek events, the site lead will coordinate other volunteers, manage the crowds, and be responsible for the event kit, which contains audience evaluation forms, the donation boxes, and additional safety and informational resources. The Site Lead should have some experience in event coordination and/or the management of other people. They must display professionalism and approachability on-site for the effective management of fellow volunteers and as a key representative of the Artsweek 2023 team.
ACCESSIBILITY ARTSWEEK ASSISTANT
The Accessibility Artsweek Assistant, working with the Accessibility Lead, will provide on-site support for audience members of all abilities. The volunteer will ensure a positive experience for persons who encounter physical or sensory barriers in the event spaces of Artsweek 2023. Responsibilities may include accompanying individuals to their seats, providing accessibility information, and responding to the needs of audience members as they arise. The Accessibility Artsweek Assistant will be educated on the appropriate methods of assistance for persons with disabilities and will therefore be someone who can respond to instruction, maintain professionalism, and be comfortable assisting others. They must be sensitive to the unique needs of individuals and have an interest in promoting accessibility at Artsweek and in everyday life.
TAKE-OUT POETRY CART ASSISTANT
The Take-Out Poetry Cart Assistant will snap photos of willing members of the public who have had poems written just for them by the participating poets. The assistant may also be asked to help the host in inviting members of the public to step up to the cart and place orders for poems. Volunteers in this role must be enthusiastic, and approachable.