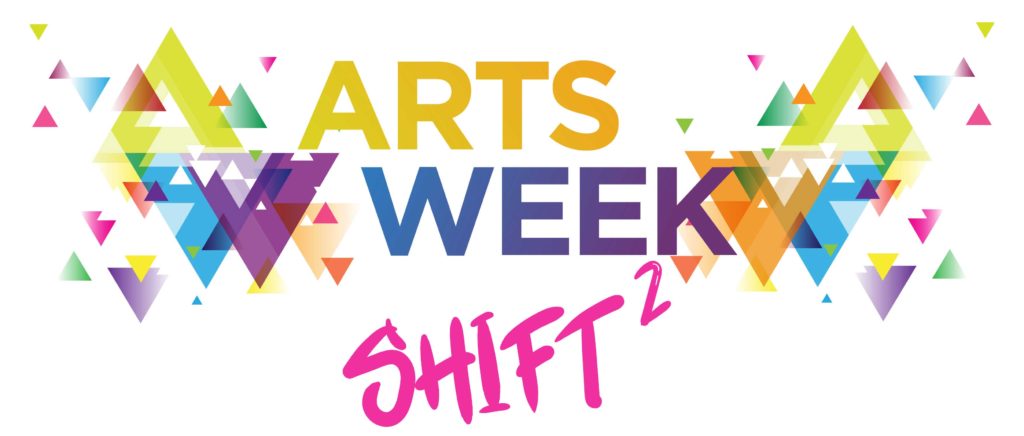 Artsweek SHIFT²: aLIVE Circus
Set at Peterborough Square, this five-act live circus production reunites audiences and performers in celebration of springtime and all things living.
Opal (Jennifer) Elchuk was born in Thunder Bay, Ontario and studied fine arts at York University. She moved to Peterborough in 2005 and became involved in the arts community as a dancer and visual artist, while teaching outdoor education. Her love of arts, wilderness adventure and climbing came together when she began training aerial circus in Toronto in 2012. Opal currently manages the Peterborough Academy of Circus Arts for which she has been teaching, performing, and producing shows since its inception. Her circus repertoire includes multiple aerial arts, fire arts, and stilt-walking. She is so excited to be performing LIVE again!
Tegan Moss joined the circus so she could spin all the things. Since its founding in 2014, Miss Moss has been practicing and performing with the Peterborough Academy of Circus Arts. Miss Moss started hula hooping in 2007 and began performing with hoops, poi, and fire props in 2009. In 2012 her practice was elevated to include the performance of aerial silks. Miss Moss has a love for life that she works to share on stage through clowning, shenanigans, and refusing to take herself too seriously.
Victoria Kopf is a fish biologist by day and a circus performer by night! An experienced rock climber and guide, she began training with her partner under Opal's keen guidance and has been a part of the Peterborough Circus ever since. She has performed on silks, cord lisse and aerial canoe, and is most grateful for PACA for bringing new creativity and exploration through movement to her life. In this latest performance Victoria appears in a duo act with her partner Jeff for aLIVE; a circus performance on a re-imagined aerial silks apparatus.
Jeffrey Cadence is a social worker and therapist practicing in Peterborough and was first drawn to circus arts when looking for an activity that blended expressive arts with athleticism to participate in with his partner Victoria. Coming from a rock climbing and guiding background, the transition to aerial silk and ropes was quite natural and provided an opportunity to blend story-telling, live music and acrobatics in his performances. Having brought a variety of characters to life on different apparatuses, Jeff returns to the (outdoor) stage with Victoria in a duo act that hopes to indeed make you feel aLIVE!
Thomas Vaccaro is the founder and Artistic Director for the non-profit Organization, The Peterborough Academy of Circus Arts. Matriculated from the National Circus School of Montreal, Thomas is trained to coach 17 different circus disciplines to all age groups in a recreational, advanced, social, or production setting. His primary loves when it comes to circus are Cyr Wheel, Aerial Acrobatics, Flow Arts, and a study and practice of movement in general. A Circus Arts Curator since 2020, Thomas now spends his days designing circus sets to be utilized and played with by marginalized populations. Since 2014 Thomas has been the Artist in Residence of Market Hall Performing Arts Centre in Downtown Peterborough and has used his residency to produce/direct original full length circus arts productions, host social programming for marginalized groups, and proudly coach many students. He is an avid believer that circus is an accessible art to all peoples, and takes joy from helping others find their flow within themselves. His recent work reflects interpersonal relationships of family, recently having performed alongside his non-circus artist husband at the Ontario Contemporary Circus Arts Festival in 2019 & his adopted son as part of Public Energy's Emergency #22 in 2018; His family was also the subject of a documentary by filmmaker LA Alfonso entitled Circus Boy at the Reframe Film Festival in January of 2020. In his spare time he enjoys (carefully) practicing on his skateboard, watching anime, and practicing archery.
Zupies (@zupetals) is a French clown from a Northern Ontario town with interest to explore. Clown Cafe with Hilary Wear (Arts Week 2015); Circus Dreamland (Peterborough Academy Circus Arts, 2014, 2015) Circus Stellar (Peterborough Academy Circus Arts, 2015). Patricia Thorne was born and raised in North Bay, Ontario. She studied theatre in a Technical Production and Design Program at Humber College (1995-1997). She has been a member of Canadian Actors Equity of Canada since 2002. She began her career as a stage manager in Toronto for 13 years. She then relocated to Peterborough in 2008. Patricia enjoys working in many forms of performance; theatre, dance, music, and circus. Recently, the past 5 years she has expanded her expertise in designs for lighting, projections, conceptual sets and dramaturg collaboration with artists. Recently Little Lake Cemetery Pageant 2019 (played Katherine Wallis).
Ethan Hinshelwood was born in 2004 in Peterborough and wasn't very old before he took interest in acrobatics. At the age of three he took his first gymnastics class and his passion stayed with him. When he was 12 he was named high bar champion of Ontario in gymnastics. By the time he was thirteen he knew something felt wrong so he decided to take a change of scenario and began circus with Thomas Vaccaro of the Peteborough Academy of Circus Arts where he took interest in cyr wheel among other things. Ethan has now been to the National Circus Schools intensive training program twice of which only 40 out of 200 students around the world are picked. He also works with a plethora of circus disciplines including silks, aerial acrobatics, fire spinning, flow arts, unicycle, ground acrobatics as well as trampoline and of course cyr wheel. Heis thankful for everyone that is there for every step of his journey from coach to audience member.
---
Witness stilt-walking, aerial arts, hoop dance and cyr wheel performed by Ptbo's liveliest local circus artists.
Colourful dress and nature themed costumes are highly encouraged!
Also please plan to wear a mask and maintain distance from folks outside of your household. Tickets will be limited to 25% capacity – click HERE to reserve your tickets.
FREE to the public or by donation, but limited audience
Rain date: July 18.