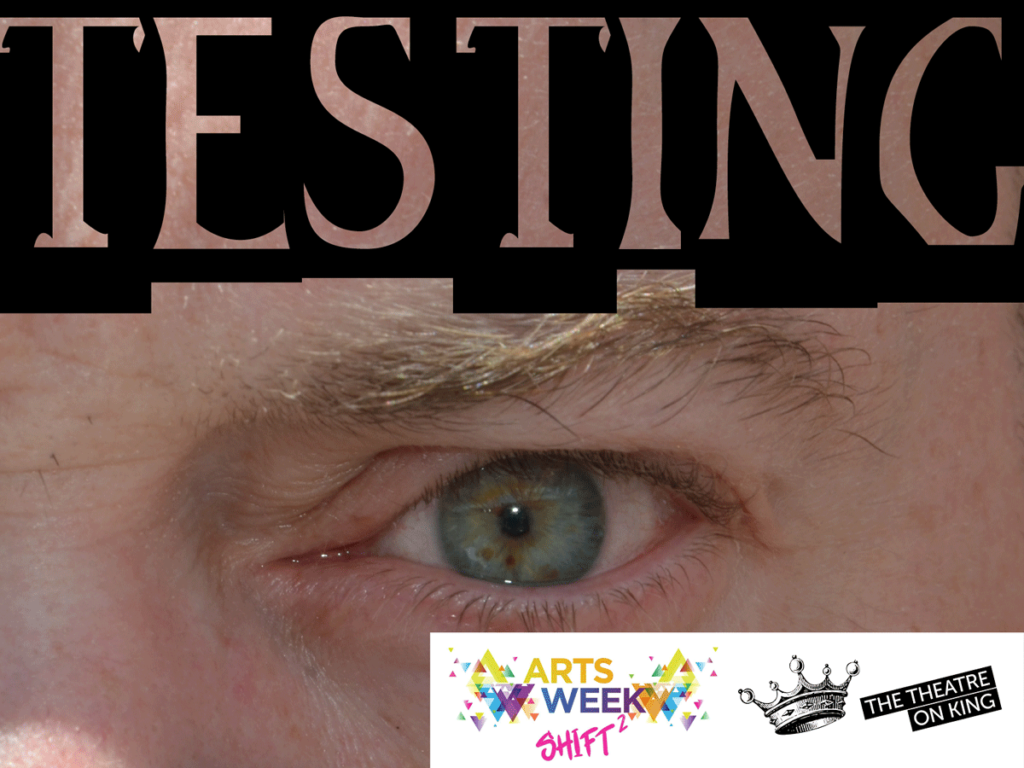 Artsweek SHIFT²: Testing
Date:

June 10 to 12
A brief and hilariously tragic theatre monologue testing the boundaries of live(streamed) communal experience. Content warning: mature themes and strong language.
This is an experiment.
This is experimental digital theatre.
Testing is The Theatre On King's contribution to ArtsweekSHIFT2, brought to you by the Electric City Culture Council (EC3) and The City of Peterborough.
As the pandemic tests our patience, stamina, and capacity for collectivism, this hilariously tragic monologue tests the boundaries of live communal experience.
Written and performed by Daniel Smith, conceived by Sarah McNeilly, directed by Kate Story with stage management by Shannon McKenzie, this10-minute Zoom monologue, will be broadcast over Zoom between 7pm-9pm on Thursday, June 10th and Friday, June 11th, with matinee performances on Saturday, June 12th between 2pm-4pm.
Audiences will have twelve chances to enjoy an intimate glimpse into the home and mind of an isolated, pandemic-beaten man.
Be sure to follow TTOK's social media channels to access the registration link when it's available!
*Strong language. Mature themes.
Artist Bios
Daniel Smith (Writer/Actor) is an actor, writer and improviser from Peterborough, Ontario. As a member of the comedy troupes The Shrimps and The LLAADS, he has written and performed an abundance of original monologues and sketches in Peterborough and Toronto. He wrote the screenplays for the feature length animated film Peterborough Time (2008) and for the animated shorts Lemming Meringue Die (2009, Movieola/Toronto Sketchfest 48 Hour Video Contest winner) and Truth or Daring: The Canadian Federal Election Cartoon (2015). He has written or co-written 7 short plays for the 24 Hour Project in Peterborough. He has participated in numerous collaborative workshops for theatrical works and was a script supervisor for Seneca College Animation students' animated shorts. As an improviser he has been fortunate to share some stage with Linda Kash, Lisa Merchant, Patrick McKenna, Paul O'Sullivan and Aurora Browne. He had a featured role in the 2019 film E.M.P. 333 Days, which received acclaim at several film festivals in North America and was picked up by Amazon Prime.
Kate Story (Director) is a writer and theatre artist. A recipient of the Ontario Arts Foundation's K.M. Hunter Artist Award, as part of Peterborough's centennial celebrations Kate was named one of the region's 100 most important performing artists.
Kate is the artistic director of the biennial multi-arts Precarious festivals, co-founder of Peterborough DanceWorks, and director of Public Energy's Alternating Currents program.
Kate has choreographed many original works, including part of trilogy "sorry about what happened at the mall" (Artsweek, 2019); "Festivus Rattus Rattus 2035" (Precarious Festival 2017); "The Arvo Part Project" (2018); "damned be this transmigration" (Public Energy, 2017), and many more. Her choreographic works – often crossing boundaries between theatre and dance – have been featured in festivals in Peterborough, Toronto's fringe Festival of Independent Dance, Rhubarb! and the St. John's Fringe and the Festival of New Dance.
Kate's first novel Blasted received the Sunburst Award's honourable mention, and her third novel This Insubstantial Pageant was tipped by the Toronto Star as a top SF pick: "Exotic, funny and very sexy." 2018-19 saw the publication of her first young adult fantasy, the Antilia duology, identified as a best new work for children by the Canadian Children's Book Centre. Kate's short fiction has been published in World Fantasy Award and Aurora Award-winning collections, and has been shortlisted for the Sunburst and CBC Literary Awards. Coming up this fall is a new YA novel Urchin with Running the Goat.
Sarah McNeilly (Project Manager) is a multidisciplinary artist who lives and works on the traditional territory of the Michi Saagiig Anishinaabeg in Nogojiwanong, renamed Peterborough by European settlers. Primarily a performer (i.e.: an actor, dancer, and musician) and highly attuned to processes; Sarah blurs the lines between theory and practice, between the arts and theoretical cultural analyses, by incorporating a hybrid research-creation form of artistic practice.
Sarah has studied dance, scene study, butoh, and Commedia dell'Arte with a wide range of mentors and teachers. She was a writer and performer for Peterborough sketch comedy troupe, LLAADS; she has written and performed a full-length stand-up comedy show to critical acclaim; and, she has performed lead roles with 4th Line Theatre, The Theatre on King, The Motley Collective, Arbor Theatre, and Mysterious Entity, among others. Sarah has created and co-created original work for Artsweek, Erring, and Emergency, among other festivals and venues. She is founder and co-writer of Haikusday, a weekly two-hour-long live radio show spoken only in Haiku, on Trent Radio. As a musician, Sarah has co-written and performed songs with two bands; she has twice played at Toronto's renowned annual music festival North By North East (NXNE).
Shannon McKenzie (Stage Manager) is an emerging theatre artist, burlesque performer, and compassionate care worker. Since first appearing onstage in an original creation: "Sinking is better than standing still" (Feb 2016) Shannon has been involved in over 25 productions at The Theatre on King, Peterborough Theatre Guild, and Public Energy, as an actor, stage manager, lighting and sound technician. Shannon made her directorial debut with "Gum & Goo" by Howard Brenton (March 2019). She has completed two tech operation mentorships with Ryan Kerr (Precarious, 2017; Precarious2: Artswork Festival, 2019). She appeared as a panelist during Precarious2: Artswork festival speaking on "I'm still here: Precarity, Aging, and Life with Art". Shannon serves on the TTOK Fundraising Committee, overseeing successful annual fundraisers for the theatre bringing in over $6000; in 2018 when the theatre moved, the committee brought in over $21,000 to support extensive renovations and accessibility upgrades to the new space. Shannon continues to develop skills in theatre tech and production, and is beginning to find herself in the position of peer mentor to emerging theatre artists and technicians herself.
---
Testing: Only a writer and performer as gifted as Dan Smith can squeeze so much catharsis into so few minutes.
Smith's script, equal parts absurdist humour and existential dread, directed with laser precision by none other than Kate Story, offers audiences precisely the generosity they need at this point of the pandemic.
The show is only ten minutes long. Ten minutes of tiny, successive bursts of laughter interlaced with the kind of tears that only come from seeing and being seen. From seeing yourself in the face of Other.
Paradoxically, it would seem, the cure for Zoom fatigue is more Zoom. The platform has never felt so intimate. So vindicating.
At The Theatre On King, we appreciate how difficult this ongoing collective trauma has been. This is hard. You're trying your best. We see you.
We've got your back.
Testing is FREE. Testing is only ten minutes long. Registration for admission to Testing can be done well in advance OR up to five minutes before the show begins. If you miss your registered show time, you can wait and watch the next one instead.
Treat yourself to a ten-minute reprieve from this eternal pandemic-Hell – you'll be so glad you did!
Testing runs every half-hour from 7pm-9pm on Thursday, June 10th and Friday, June 11th – with matinee shows from 2pm-4pm on Saturday, June 12th.
Audiences will have four opportunities each day to see Testing: at 7:00, 7:30, 8:00, and 8:30 on June 10th and 11th, and at 2:00, 2:30, 3:00, and 3:30 on June 12th.
Register for Testing here:
Thursday, June 10 (7pm-9pm)
Friday, June 11 (7pm-9pm)
Saturday, June 12 (2pm-4pm)
*Testing contains strong language and mature themes.
Testing is brought to you by The Theatre On King and Artsweek SHIFT2.