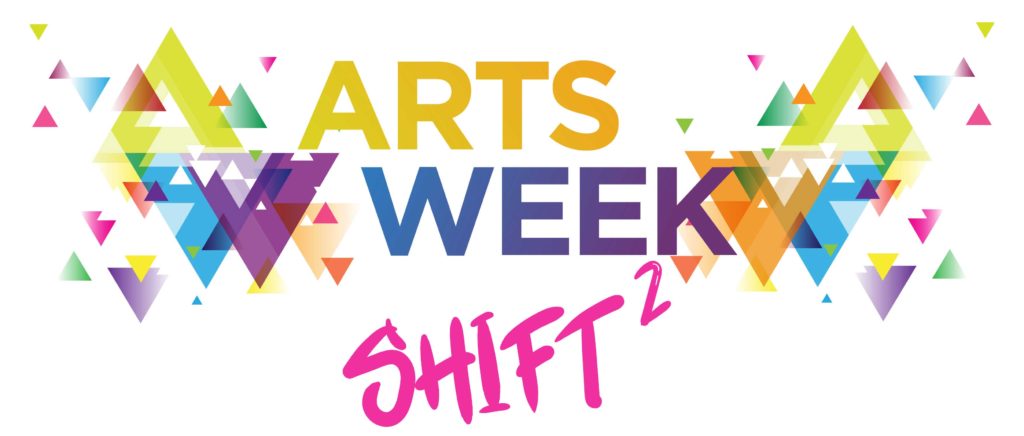 Call for Applications for 'Mini Grants to Professional Artists' and 'Project Production and Presentation Grants' for Artsweek SHIFT² Pocket Festival
It's January, and we are all working through another pandemic lockdown, so we hope this Bulletin comes as some good news.
As previously announced, Artsweek 2020, Peterborough's biennial, multidisciplinary, ten-day-long celebration of this city's vibrant arts scene, which was originally scheduled for last September, has been postponed until the fall of 2021 (assuming pandemic conditions permit).
In the meantime, we are pleased to announce Artsweek SHIFT², a program including both Mini Grants to Professional Artists to advance their work, and Project Production and Presentation Grants for events taking place between March and May 2021.
This "pocket festival" of events will be the second phase of Artsweek SHIFT, which kicked off late last year with a curated, multidisciplinary program of arts projects in Peterborough, both live and online. That phase included Downtown, organized by Justin Million, which featured a storefront exhibition of paintings by John Climenhage and a program of spoken word and poetry readings throughout the city; and Post-Code Tour, curated by Hannah Keating, an innovative re-imagining of accessibility and inclusion in Peterborough's downtown far into the future, which can be experienced on Instagram at @post_code tour.
Now, we are proud to launch the second phase, Artsweek SHIFT².
Artsweek SHIFT² Open Call for Applications
Artsweek SHIFT² has two Components:
Component One: Mini Grants to Professional Artists

provides up to $1,500 for local artists to undertake activities that will aid in their creative development and support the sustainability of their practice, including, but not limited to, the development of new projects, advancing works in progress, adapting existing works or developing new approaches to their work including, but not limited to, the use of new technologies or digital opportunities. While projects may include public presentation of a completed work or works, this is not a requirement of this Component of the program.

Component Two: Project Production and Presentation Grants

provides up to $3,000 to individual artists, collectives, or not for profit arts organizations for innovative, larger-scale projects in any artistic discipline, taking place virtually or live in Peterborough before May 31, 2021. Projects may include "pop ups", one time only, or a series of events. All, projects must comply with current Covid 19 health and safety regulations. Partnerships and collaborations between arts and community groups are welcome.
Applications are now open for both Components of Artsweek SHIFT². Click HERE for more detailed information, or click HERE for a direct link to the Program Guidelines and Application Form PDF.
The deadline for both Components is February 22, 2021.
Completed applications will be accepted at infoartsweek@gmail.com.
Inclusion and Accessibility
Artsweek SHIFT² and EC3 are committed to equity and inclusion, and welcome applications in both Components from diverse cultural communities within the City of Peterborough, including artists who identify as BIPOC, LGBTQ2+ artists, artists from marginalized communities, artists who are Deaf, hard of hearing, or living with disabilities.
If you are a first-time applicant, identify with the groups above, or just need assistance with the process, please contact the Artsweek team at infoartsweek@gmail.com.
Artsweek SHIFT² Application Information Session
UPDATE (Februrary 8): Thanks to everyone who came out to our info sessions. Recordings of both sessions are now available.
Got any questions about applying for Artsweek SHIFT²? Looking for some tips & tricks?
EC3 and Artsweek will present two Artsweek SHIFT² Application Information Sessions online via Zoom on Thursday, February 4, at 5:30pm and 7:30pm. The sessions are free and will each last approximately one hour.
Pre-registration is required for these sessions:
(If you can't make it, we will make a recording of the event available after it's done.)
If you have any questions, you can contact EC3's Program Coordinator Gabe Pollock at infoartsweek@gmail.com.
We can't wait to see your proposals!
Follow us Online!
For up-to-the-minute updates about all Artsweek programs, be sure to follow Artsweek on Facebook, @Ptbo_Artsweek on Twitter, and @artsweekptbo on Instagram, and check out the Artsweek SHIFT website for more information.
---
Please stay well and let us know how we can help.
TRACK THE IMPACT.
Be safe, stay healthy, and please don't hesitate to reach out.
Su Ditta and the EC3 Board
Contact
Su Ditta
Executive Director, EC3
electriccitycc@gmail.com
www.ecthree.org
(705) 749-9101